Deoghar Baba Baidyanath Dham - Shrawan Mela
The importance of Babadham increases during the month of Shrawan. During this period, lakhs of devotees throng the Baba Baidyanath temple. Most of them first visit Sultanganj, which is 105 km from Babadham.

In Sultanganj, the Ganges flows to the North. It is from this place that the devotees collect water in their kanwars and carry the holy Ganges water, with the kanwars on their shoulders. They walk 109 km up to Baba Baidyanath temple at Babadham reciting Bol Bam on the way.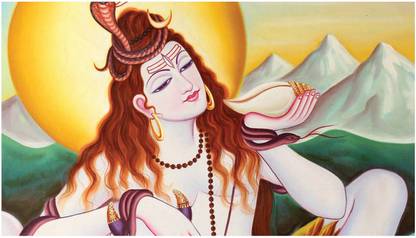 On reaching Babadham, the kanwarias first take a dip in the Shivaganga to purify themselves, and then enter the Baba Baidyanath temple, where the Ganges water is offered to the Jyotirlingam.

This pilgrimage continues during the whole of Shravan for 30 days, during July-August. This is the longest religious fair in the world.

People from foreign lands also visit Babadham not only during Shrawan month but also during the rest of the year.

The sight on the way from Sultanganj to Babadham is of a 109 km long human chain of saffron clad pilgrims. It is estimated that within this period of one month around 50 to 55 lakhs pilgrims visit Babadham.

Besides the great pilgrimage of Shrawan, almost the whole year remains under fair with Shivaratri in March, Basant Panchami in January, Bhadra Purnima in September.
kanwaria
---
| | |
| --- | --- |
| Baba Ajgaibinath (Sultanganj) to Kamrai | 6 km |
| Kamrai to Masumganj | 2 km |
| Masumganj to Asarganj | 5 km |
| Asarganj to Rangaon | 5 km |
| Rangaon to Tarapur | 3 km |
| Tarapur to Madhodih | 2 km |
| Madhodih to Rampur | 5 km |
| Rampur to Kumarsar | 8 km |
| Kumarsar to Vishwakarma Tola | 4 km |
| Vishwakarma Tola to Mahadev Nagar | 3 km |
| Mahadev Nagar to Chandan Nagar | 3 km |
| Chandan Nagar to Jilebia More | 8 km |
| Jilebia More to Tageshwar Nath | 5 km |
| Tageshwar Nath to Suiya | 3 km |
| Suiya to Shivalok | 2 km |
| Shivalok to Abrakhia | 6 km |
| Abrakhia to Katoria | 8 km |
| Katoria to Lakshman Jhula | 8 km |
| Lakshman Jhula to Inaravaran | 8 km |
| Inaravaran to Bhulbhulaiya River | 3 km |
| Bhulbhulaiya River to Goryari Inn | 5 km |
| Goryari Inn to Patania Inn | 5 km |
| Patania to Kalakatia Inn | 3 km |
| Kalakatia to Bhutbangla | 5 km |
| Bhutbangla to Darshaniya | 1 km |
| Darshaniya to Baba Baidyanath Temple | 1 km |
kanwaria
---
Essential articles:
A kanwar
Two water - pots
A match box and a packet of Agarbatti (incense sticks)
A bag
A carpet and two sheets (Chadar)
A piece of plastic cloth
Two pairs of saffron - coloured dresses
A torch and a few candles
A towel
Required money
Rules and Norms:
To maintain celibacy (Bramhacharya)
To remember Lord Shiva by keeping mind, heart and speech pure
To speak the truth
To be inspired by charity and service
To take bath before taking the kanwar
To recite Bam - Bam
Not to use oil and soap
Not to wear shoes
Not to take any article made of leather
To avoid dogs. (dogs should not be touched)
The month of Shravan is dedicated to Lord Shiva, and million of pilgrims in saffron clad take Ganaga Jal in kanwar from Sultanganj, Bhagalpur District, Bihar and Pour at Baba Baidyanath, Deoghar, Jharkhand. This is the longest pilgrimage fair of world, you will find small restaurant in all 105KM in side of road. No dout During this yatra you continue need to speak BOL BUM- BOL BUM.
People use three way to Carrie Gangajal.
K anwariya – Yatri use to carry Gangajal kānvar a single pole (made of bamboo) with two roughly equal loads fastened or dangling from opposite ends. The kānvar is carried by balancing the middle of the pole on one or both shoulders. Normally Yatri takes 3-4 days tfortravel 105+KM. In this form Yatri may eat food and take sleep and no bounding of reach time. Most of the people use this way to do the yatra.
Dak Bum- Yatri use to carry Gangajal on his back in small bottles and need to travel within 24hr from the starting time. If one you stop your Yatra should be break and may continue as normal Kawariya to reach at Baidyanath Dham. Durring the travel many NGOs and Private team engage trying to facilitate them with Milk, fruit, Juice, Tea, etc. This is the most tough way to pour the angajal on Baidyanath Dham.
Dandi Bum – They can major the distance with their body and traveling this yatra. This is the most time taking and difficult way to reach at Baidyanth dham. In Dandi Yatra take approx 30 days.
Sultanganj Railway Station
Kanwar shops at Ghat Road Sultanganj
Ajgebinath Ghat
Glimpses of Kanwariya
Kids Going to Bidyanath Dham Dandiyatra
Funny image
Photograph Source http://khanbhavesh.blogspot.com/2016/08/memories-of-sultanganj-to-deoghar.html
---
---
if you have any information regarding Job, Study Material or any other information related to career. you can Post your article on our website. Click here to
Register
& Share your contents.
For Advertisment or any query email us at
educratsweb@gmail.com
Category
Contents
Jobs
Link
Photo
Video
Business Directory
Our presence in social media
Twitter
Facebook
Telegram
Whatsapp Grroup
vk.com
Flipboard
Contact us
Contact us
Explore more
Web Archive
Free Online Practice Set
Our Blog
Search Pincode
Search Bank IFSC Code
Best Deal
Greetings
Recent Jobs
RSS
Advertise with us
Question
follow.it
Sitemap
Tag
Tag
Search
We would love to hear your thoughts, concerns or problems with anything so we can improve our website educratsweb.com !
Email us at
educratsweb@gmail.com
and submit your valuable feedback.
Save this page as PDF