Saree is the tradition Indian outfit, which accentuates the beauty of Indian women of all ages and forms. This outfit has now got global recognition, with many international celebrities endorsing it by wearing saree on international events. Sarees are a hor favorite among Indian celebrities too, in addition to being the staple outfit of the common woman in the country.
The market is flooded with a large number of saree brands, which specialize in diverse varieties such as cotton, silk, net, georgette, chiffon and many more designer sarees.
Listed below are the top 10 best & famous saree brands in India:
1. Nalli Silk Sarees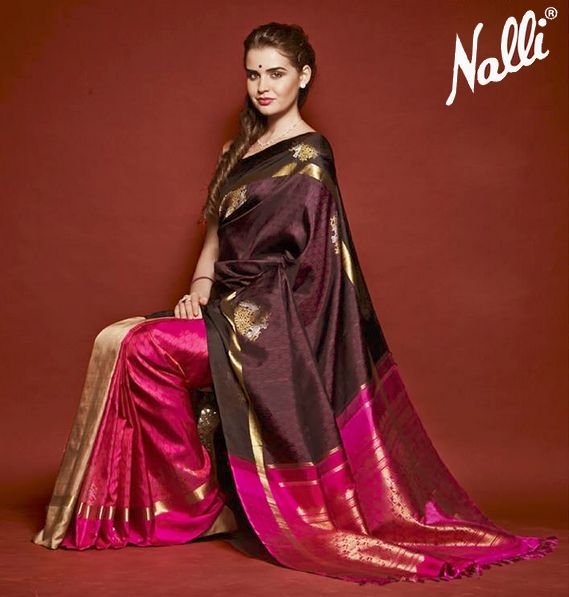 Nalli is one of the best and oldest silk sarees brands in the country, which was established way back in 1928, by Nalli Chinnasami Chetty in Chennai. This brand is famous for its silk and Kanjipuram sarees and has its branches all over the country. Nalli is a trusted name when you are looking for sarees for diverse occasions and tastes.
2. Ritu Kumar Sarees
On number 2, we have Sarees from Ritu Kumar and the sarees of this specific brand is designed by the popular designer Ritu Kumar. She started her business in Kolkata with the bridal wear and today, the brand has shops across the country. The sarees are more focused towards the traditional prints and the fabric used to make the saree is of top quality. Many of the celebrities like Deepika Padukone, Kalki Koechlin, Priyanka Chopra and Princess Diana have been spotted in Ritu Kumar Sarees.
3. Meena Bazaar Sarees
Another popular saree brand in the country is the Delhi based Meena Bazaar, the hub for traditional clothing for women, including sarees, suits, kurtis and lehangas. The brand store was established in Karol Bagh in 1970. It gives wide options to buyers, offering the finest quality at the most affordable prices. You can buy its sarees online too.
4. Sabyasachi Saree
Today Sabyasachi Sarees are the most popular outfit for any wedding. The brand originated in Kolkata in around 2001. Since then, the brand had received a lot of positive feedback and the sarees are known for amazing hand work. The designs from Sabyasachi are a feature on many fashion shows and the saree sells for millions of Rupees. Sarees from Sabyasachi have also been used in Sanjay Leela Bhansali films, Raavan, English Vinglish and many other movies.Some of the celebrities like Rani Mukerji, Sridevi, Aishwarya Rai, Deepika Padukone and Sushmita Sen had often been spotted in sarees from Sabyasachi.
5. Kalanjali Sarees
The next name on the list is that of Kalanjali Sarees, a Hyderabad based company founded by Ramoji Group in 1992. The sarees showcased by Kalanjali include formal to casual wear sarees, including varieties such as banarasi, kota and Gadhwal sarees. Besides sarees, the brand furnishes art products like home décor, paintings, pottery and textiles.
6. Manish Malhotra Sarees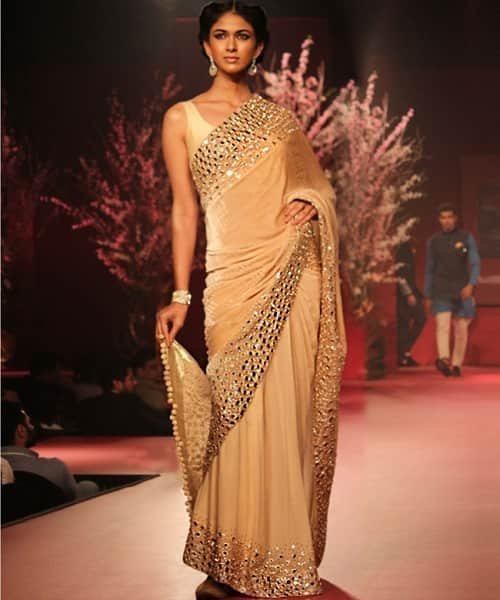 Next on our list is Manish Malhotra Sarees and this is yet another designer brand on our list. The brand certainly needs to introduction because of the name that is associated with it. In addition to this, the brand has a turnover of over Rs 1 Billion. This label was launched in 2005 and since then it had been offering bridal collection along with men's wear which is loved by every person.
7. Bombay Selections Private Ltd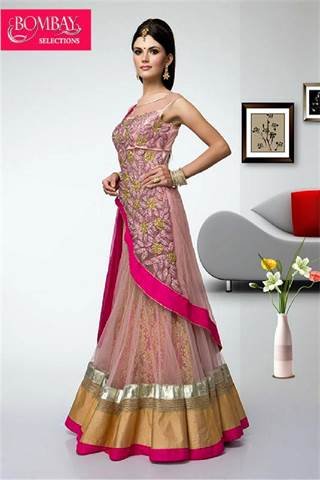 The next name on the list of most famous saree brands in India is that of Bombay Selection Private Ltd, which offers a great variety in bridal, party wear, casual and traditional sarees, in addition to dress materials, salwar suits and lehangas. The brand entered the market in 1993 and has its exclusive showroom in Delhi.
8. Satya Paul
A brainchild of the famous designer Satya Paul, this designer label in sarees was launched in 1985 and has its brand stores all over the country, where you can buy ethnic wear, sarees, scarves and designer bags too. The brand uses more of silk fabric and brings sarees in various price ranges.
9. Kalamandir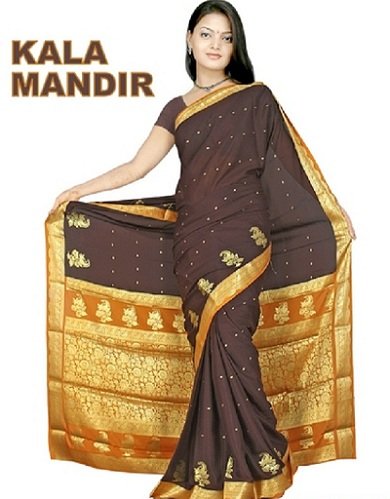 Kalamandir is another leading saree brands in the country, which manufactures sarees with diverse variety in terms of fabric used, such as kanjeevaram, chiffon, georgette and bandhej. The Hyderabad based brand was started in 2005 and sells mens wear and kids wear in addition to sarees.
10. Tarun Tahiliani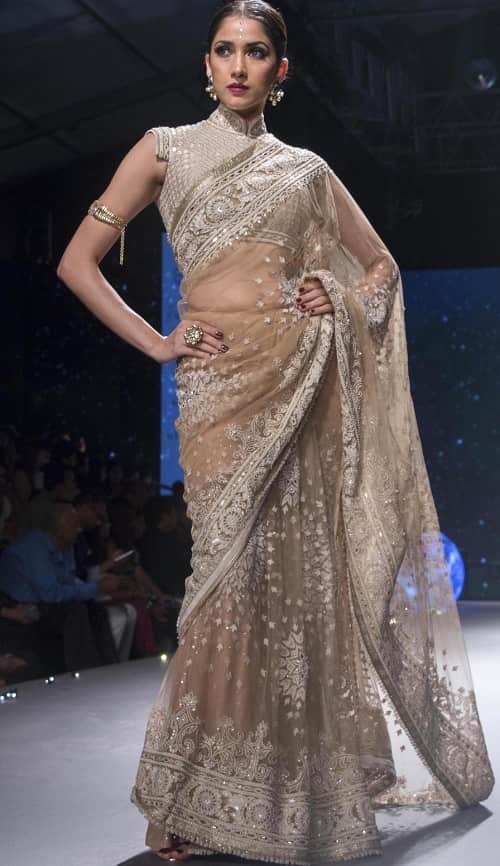 Tarun Tahiliani is another popular fashion designer who designs really elegant sarees and the sarees from this brand carries a modern yet traditional look. In recent years, the brand has also launched Bridal Collection which had been successful in grabbing public attention. Apart from sarees, Tarun is also known for his interior designs and he had designed many popular hotels and restaurants.
11. Kalaniketan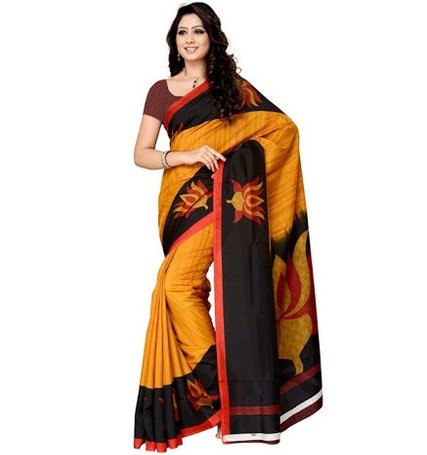 One of the oldest and trusted saree brands in India is Kalaniketan, which dates back to the year 1942. You can buy printed, party wear or bridal sarees from Kalaniketan. It also furnishes ethnic clothing for men and promises a blend of quality and affordability for the customer.
12. Deepam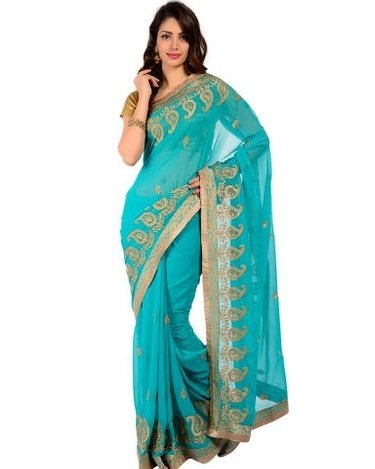 Featuring next on the list of best saree brands in the country is Deepam, which has its roots in Bangalore. The brand specializes in party wear and bridal sarees, in silk and designer range. It also manufactures ethnic wear like lehangas and salwar suits.
13. Fab India
Fab India is a brand from TATA, which manufactures sarees using natural fibers like cotton and silk. This designer brand is famous for designer wear for men and women, home décor, heath care products and handicrafts. Fab India sarees are popular for their elegance as well as uniqueness.
14. Gaurang
This leading brand was started by popular designer Gaurang from Hyderabad and has its stores in major cities like Delhi and Mumbai. The brand deals in designer ethnic wear for both men and women. Sarees from Gaurang have a classy elegance and stylish appeal.
Some other highly appreciated saree brands in India are Prafful, Parag, Ritu kumar and Sabhyasachi.
---
---
if you have any information regarding Job, Study Material or any other information related to career. you can Post your article on our website. Click here to
Register
& Share your contents.
For Advertisment or any query email us at
educratsweb@gmail.com
Category
Contents
Jobs
Link
Photo
Video
Business Directory
Our presence in social media
Twitter
Facebook
Telegram
Whatsapp Grroup
vk.com
Flipboard
Contact us
Contact us
Explore more
Web Archive
Free Online Practice Set
Our Blog
Search Pincode
Search Bank IFSC Code
Best Deal
Greetings
Recent Jobs
RSS
Advertise with us
Question
follow.it
Sitemap
Tag
Tag
Search
We would love to hear your thoughts, concerns or problems with anything so we can improve our website educratsweb.com !
Email us at
educratsweb@gmail.com
and submit your valuable feedback.
Save this page as PDF