PUSHPAM PRIYA CHOUDHARY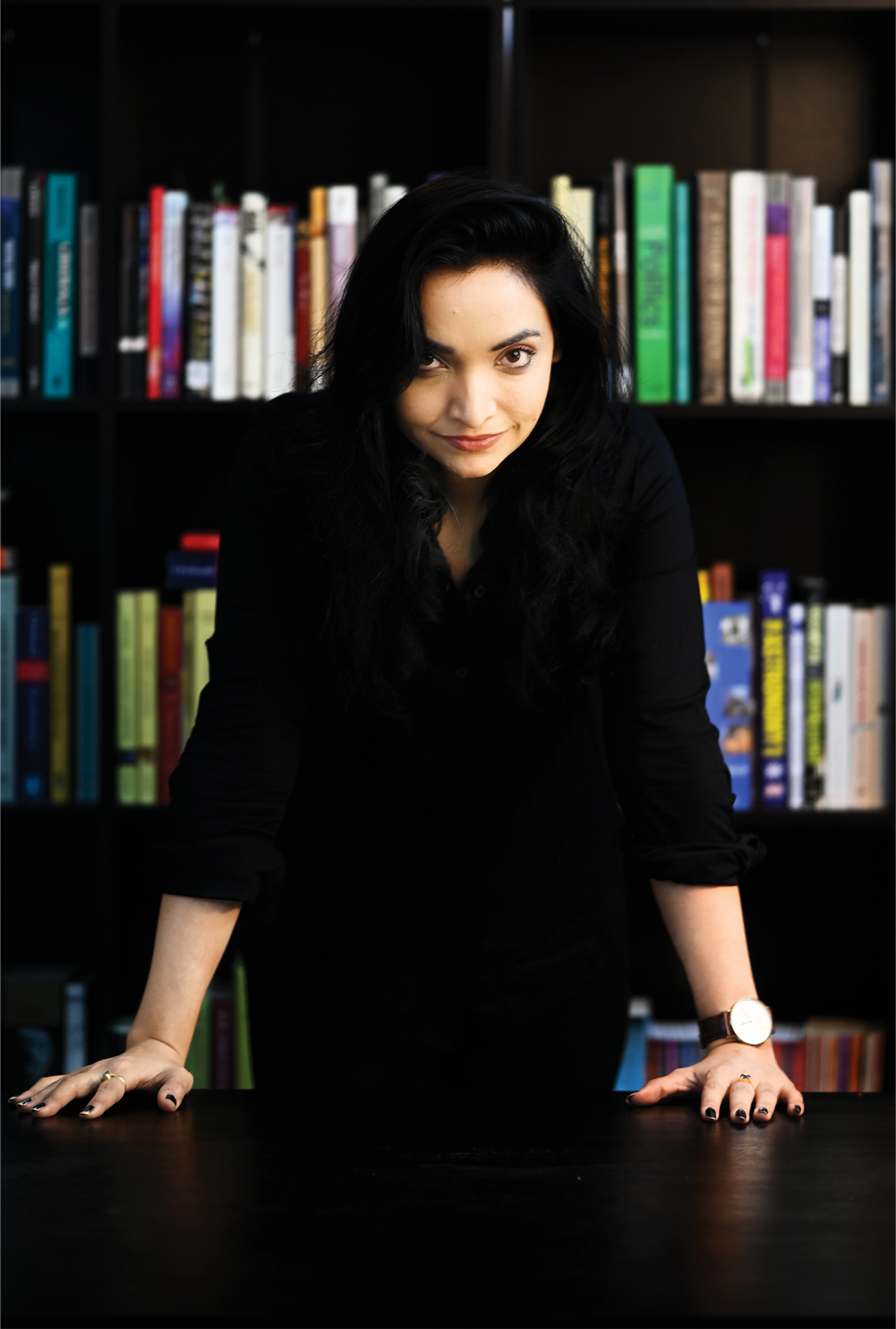 President, Plurals
@Plurals,
Official Portrait,
Office, patna, Bihar
Pushpam Priya Choudhary is the president of Plurals. She launched the political movement "Everyone Governs" through the political party "Plurals" in 2020. The philosophical idea of 'plural' is what defines her, her ideological orientation, as well as her movement. Plurals stands against the existing political practices to re-define politics in Bihar. She firmly believes that a country which was born out of substance and firm moral grounding has moved away from it, and it is time we re-establish those fundamentals. "Politics will have to change as the future and welfare of people depends on it now more than ever. We cannot afford to be left behind. Someone needs to step up. I am going to be that someone". She advocates that politics should be positive, productive and only about policymaking — "I only support programmatic politics".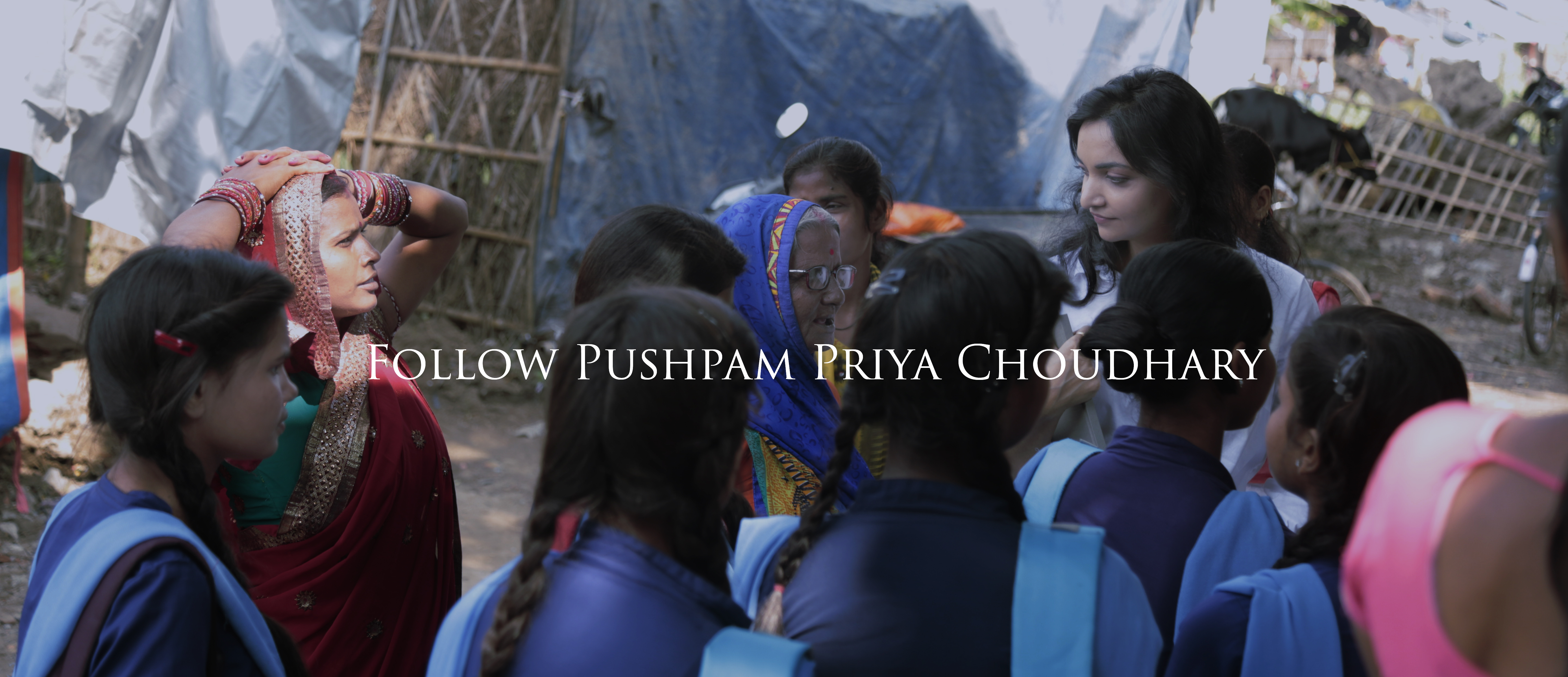 Pushpam Priya Choudhary was born and brought up in Darbhanga, Bihar. She moved out of Bihar to pursue her tertiary education. She later moved to United Kingdom and completed her masters in Development Studies from the Institute of Development Studies, University of Sussex. Her subject of research was Governance, Democracy and Development Economics. She researched about the effective policies worldwide and the failed policies of Bihar and India. She also conducted a primary research on voting patterns and voting behaviour in Bihar in the context of Bihar Assembly Elections 2015 and submitted a thesis on "party-candidate-voter linkage mechanism of accountability and responsiveness". Her research was highly praised by internationally acclaimed experts of comparative election studies.

Ms. Choudhary then pursued Master of Public Administration at The London School of Economics & Political Science. At LSE, she studied Political Science, Political Philosophy, Public Administration, Economics, Philosophy for Public Policy, Social Policy and Political Communication. She was also offered an opportunity to complete her second year at the prestigious Sciences Po in Paris for a dual degree, but she decided to stay at LSE — "The teaching and research at LSE is excellent, I did not want to miss a single day at LSE, let alone a complete year."

The 2018 & 2019 AES fever in Bihar that resulted in deaths of hundreds of children disturbed her immensely. It happened around the time when she was working with Boston Consulting Group and LSE on a public-policy project for developed democracies — "The problems of public services and governance in Bihar can be tackled very easily. The governments of advanced democracies are now involved in tackling more complicated problems, they have their basic services and governance in place. Designing policies for other countries, knowing about the issues of my home state that can be fixed, was morally troubling. The burden of not doing anything for Bihar and leaving it in the hands of corrupt and incompetent people is not what I ever wanted to live with. I moved out of Bihar, but Bihar never left me". She was always very clear and focused about what she wanted to do for Bihar since her departure — "Of course, money and opportunities are abundant abroad, but money has never been my drive in life. What I adore about London is the respect people have for each other. People are valuable to the government, no matter who they are and where they come from. Life is easy and public services very effective. I want to see Bihar like that in this lifetime, before I die. So I packed everything and moved back to my land, for good"

Pushpam Priya Choudhary, returned in 2019 with one aim — build a better Bihar and change the inefficient political system. The people who she stands against are everywhere..."When I say political class, I do not only mean politicians, it means the entire patron-client network of corruption. They are everywhere, in different professions. People who misuse the power of their contacts." She knows it is difficult as the system has been deliberately ruined for decades and thus the network of the corrupt is very strong. "But it is not impossible, and definitely not as difficult as going to the moon or creating rain in a dessert. That has been done too. Life is difficult too, but we do not stop living eh? People do not deserve to die because of governments' inefficiency and arrogance. Bihar belongs to me and people like me also, and as a Bihari I will not let that happen any further, whatever it takes. Moreover, there is no evidence that it cannot be done, but there is 73 years of evidence that these politicians can't do it. I function on evidence and facts not speculations and opinions. There are some honest, hard-working people too, who want to work but are not allowed to work in the system. I want to create a healthy environment for them. When institutions are strong, talents get promoted to the surface automatically and when they are weak, only the wrong and corrupt grow on the expense of the right and innocent people." She envisions a progressive Bihar. "I believe in my people and the electorate. We have tolerated for years. Enough is enough. Bihar will change now forever and will be governed by evidence-based public policy and positive politics. And that is definite."
About Plurals
Plurals agenda is complete transformation of Bihar. Bihar ranks the last in all development indices in the country. These ranks are not just numbers but evidently reflect the inhuman and unacceptable conditions in which the populace is forced to live. This plight can be solely attributed to the inefficient and incompetent government.

Plurals aims to be elected to office as a responsible government that substantively represents and is genuinely accountable to the people. Thereafter, it will build strong institutions and design better policies to provide efficient public services to everyone regardless of their socio-economic status. Plurals will strive against the contrived economic, social and political conditions to build a Bihar where every life is unquestionably equally valuable.

Our mission is to revive the moribund economy of Bihar; to create a new Bihar that produces, innovates and invests to become the most well governed and developed state in the country by 2025 and one of the best liveable places in the world by 2030. Plurals will do so through evidence based policy making that stems from positive and programmatic politics.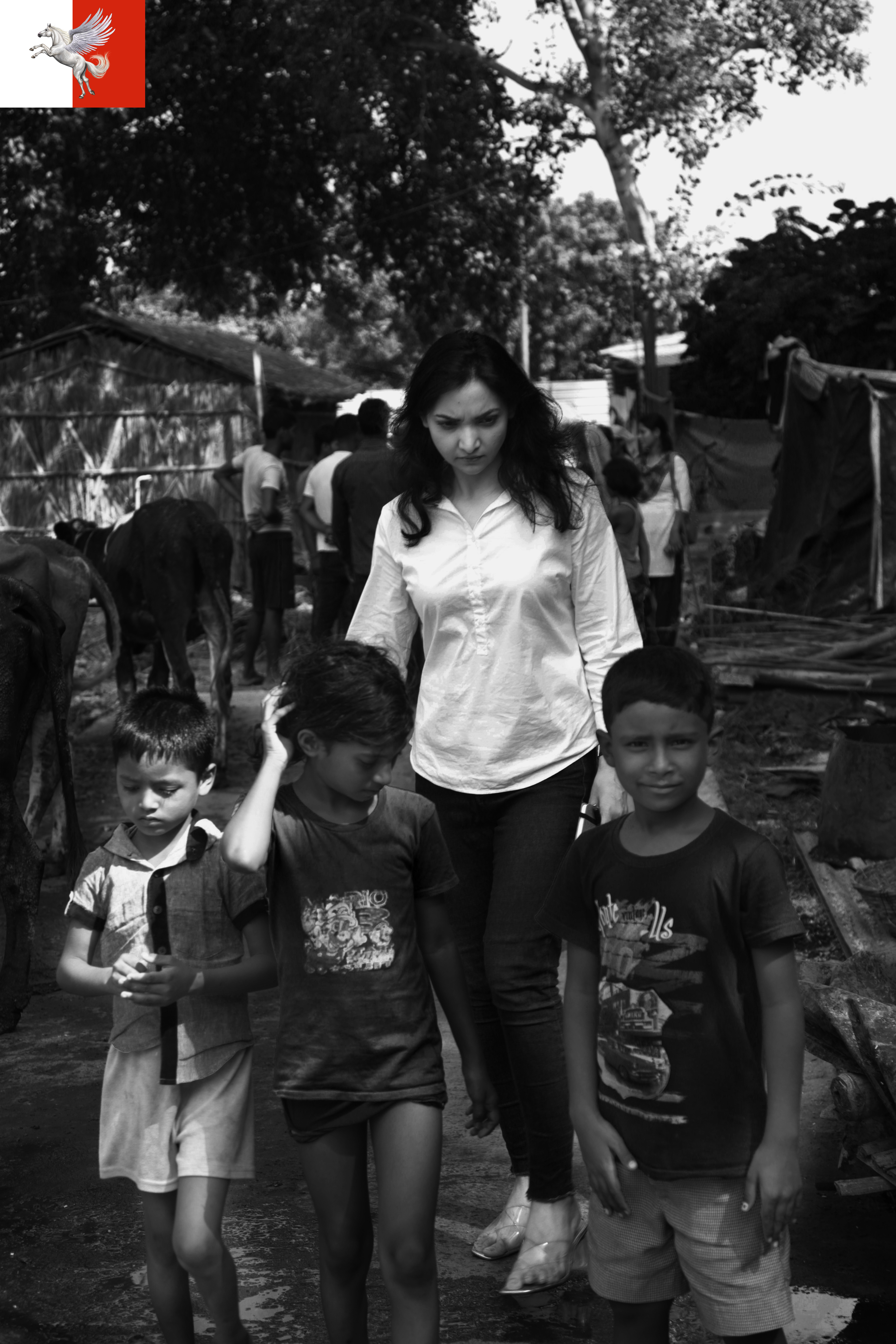 IDEALS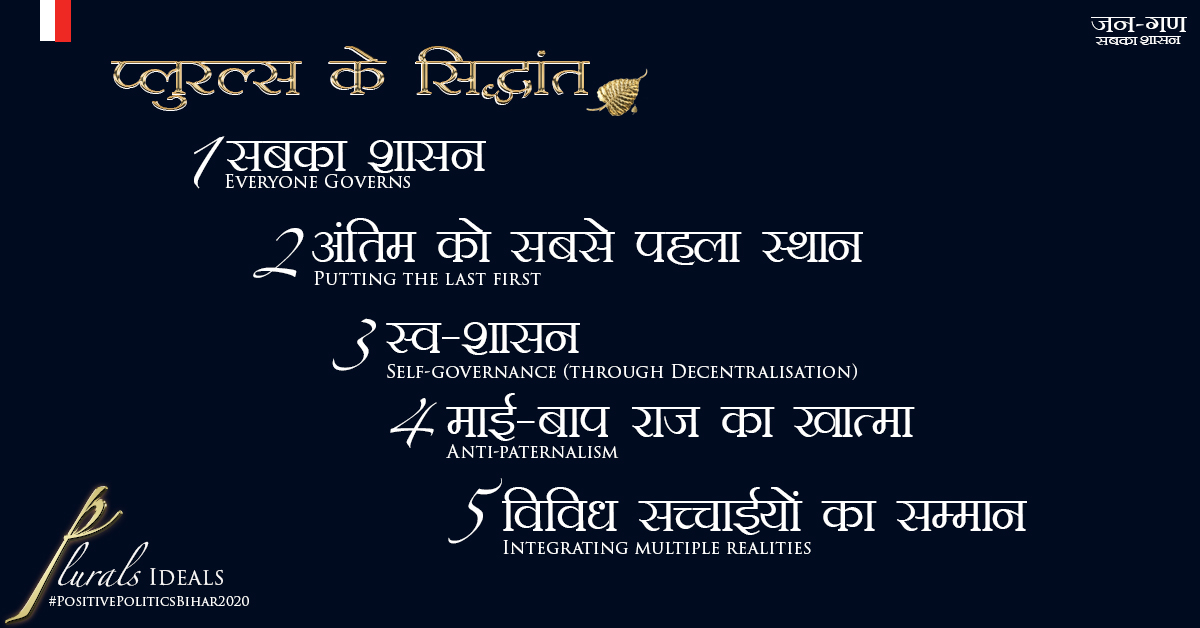 A couple of months ago I was asked by one of our elderly fellow citizen, a farmer in Nalanda. "aap kya karna chahti hain (what do you want to do)?" I replied "Bihar ko badalna chahti hun bas (only want to change Bihar)." He smiled and with an incredible composure said "rajaneeti ka star itna gir gaya hai, sachche logon ke liye mushkil hai, kaise kariyega (the level of politics has fallen so much, difficult for good people, how will you do?)." I answered "rajaneeti mein siddhanton ko zinda karke, mushkil he sahi (by reviving ideals in politics, no matter how difficult it would be). He was so pleased to hear it that he talked at a great length about some of our great leaders who were ideologically and principally committed. I could hear in his voice the same passion for change and hope that lives inside me.

The one thing that I have disliked most about contemporary politics is the moral decline, dishonesty and the lack of ideals in political parties. Plurals is born out of values. Let me share with you the five ideals of Plurals, the reason behind them and the outcome they seek to achieve. These ideas are rooted in strong morals and unwavering dedication to duty and are in no particular order - all equally important.

Everyone Governs: You see this in all our communication. One of the central reason for underdevelopment in Bihar is that the political machine works for and benefits only a few: the so called VIPs. There exists a strong nexus between politicians and their 'yes-men- the well connected'. The entire political machine works only for them and our taxes are abused to favour these few. Opportunities are hoarded by the well-connected (corrupts) and the 'righteous' in this toxic environment is destroyed very easily. Bihar will grow only when governance includes everyone, and power and resources are diverted to the real people.

Putting the last first: Power comes from the people, through voting. However, the sense of power is absurdly twisted in Bihar. For a well governed Bihar, power that comes from the vote of the grassroots should stay at the grassroots. People who unfortunately are the last in the socially and economically constructed hierarchy must be given the utmost importance in development. Government should work as a facilitator that inspires, convenes, enables and transforms lives. If people at the grassroots are not handed over the power in the form of better public services and efficient policies, then unarguably Bihar will continue to be the last in all development parameters in the country.

Decentralisation: The government has made a complete mockery of decentralisation in Bihar. All that decentralisation has been successful in doing is creating power-brokers. The governing bodies at the lowest tier of governance are mere puppets in the hands of the state government. This relationship needs to be altered and over-centralisation of power must flow from the state departments to the lowest tier of governance (not just on 'files'). They should be trained and monitored. All the developed nations have well functioning decentralised institutions. Thus, real decentralisation is non-negotiable for the development of Bihar.

Anti-paternalism: Government is not the parent of people and thus it has no right to set paternalistic draconian rules. The functioning of the government continues to be extremely authoritarian in Bihar. The 'sahab' culture stems from a paternalistic mindset that needs to be urgently abolished. Policy-making has a sole purpose of 'enablement' and 'protection'. To give people better services and protect people from the uncivilised in the society. However, these two key roles are ignored by the political machine. People are not the nucleus of governance. Those who are meant to be the protectors are the biggest violators of human rights and law in Bihar.

Integration of multiple-realities: We all have different realities and therefore different problems. These realities should be integrated by effective policy-making. Bihar is a state of immense potential but 'one size fit all' cannot work in Bihar as it is very diverse. The resources, needs and problems are very different from one region to another and they all need to be incorporated so that no one is left behind. For a successful state and a better quality of life for 'everyone', development should be distributed responsibly and unbiasedly. Development of Bihar is a far-fetched dream if we do not develop together.

"Build institutions not power-brokers"

Solution : "Move from 'band-aid' solutions to 'Fix the causes of problems'!"

Means : Complete abolition of clientelism, corruption and VIP culture and Zero tolerance towards crime and discrimination.

Motto : Kantian philosophy that "Act so as to treat people always as ends in themselves, never as mere means"
Know more about plurals visit official website https://www.plurals.org
---
---
if you have any information regarding Job, Study Material or any other information related to career. you can Post your article on our website. Click here to
Register
& Share your contents.
For Advertisment or any query email us at
educratsweb@gmail.com
Submit Guest Post
Guest Post
Submit Job Information
Submit Contents
Category
Contents
Jobs
Link
Photo
Video
Business Directory
Our presence in social media
Twitter
Facebook
Telegram
Whatsapp Grroup
vk.com
Flipboard
Contact us
Contact us
Explore more
Web Archive
Free Online Practice Set
Our Blog
Search Pincode
Search Bank IFSC Code
Best Deal
Greetings
Recent Jobs
RSS
Advertise with us
Question
follow.it
Sitemap
Tag
Tag
Search
We would love to hear your thoughts, concerns or problems with anything so we can improve our website educratsweb.com !
Email us at
educratsweb@gmail.com
and submit your valuable feedback.
Save this page as PDF