Bihar and Jharkhand make a major chunk of the Hindi heartland of India. With a population of about 11 crores, the two states have a major burden of neonatal and mother patients. The existing few small neonatal and mother care treatment units are highly inadequate to cater increasing number of such patients. This area was lacking a comprehensive neonatal care centre for a long time where all the treatment facilities were not available under one roof.
Realising this huge burden and lack of adequate treatment facilities in this part of the country, the famous Sri Mahavir Mandir, Patna had planned to establish a superspeciality neonatal and mother care hospital for the first time. As per the plan, the foundation stone of this charitable hospital had been laid down on 21st October 2003 by Hon'ble Mahamandaleshwar Swami Sri Vidyanand Giri Maharaj of Kailash Aashram, Haridwar and its inauguration held on 30th April 2006 by Sri Nitish Kumar, Hon'ble Chief Minister of Bihar. With spiritual blessings, within a short time it has become excellent center, probably, the best neonatal and pediatric care hospital in Bihar and Jharkhand and capable to fulfill medical requirements to poor people of the society. During this period, Sri Mahavir Mandir planned to convert this hospital as a 120 bedded general superspeciality hospital where better treatment regarding Neonatal, Obstetrics & Gyanaecology, Orthopaedics, Eye, Orodental, General Surgery, Skin & V. D., Physiotherapy and General medicine may be provided to the downtrodden people of the society under one roof uninterruptedly round the clock on no profit basis.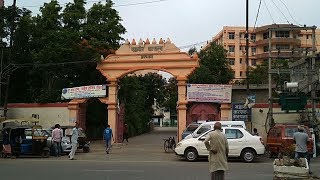 The philosophy of this hospital is to constantly strive towards excellence in neonatal and mother care through combination of ultramodern technology and competent personnel with human touch. High quality treatment with complete patient's satisfaction, improving cure rates and adding quality of life will always be our hallmark. We take pride in touching and enriching live with love, compassion, a positive attitude and following ethical practices based on transparency and accountability.
Facilities
Neonatal & Pediatric Care

Pathology Department

Cardiology Department

Cardiothoracic Department

EYE Department

General Medicine

General Surgery

Obstetrics & Gynecology

Orodental Department

Orthopedics Department

Physiotherapy Department

Radiology Department

Location: 7 kilometers from Patna Junction and 10 kilometers from Patna Airport, located on
Patna- Danapur highway, east of Sadaquat Ashram and Kurji Holy Family Hospital, Patna.
Address: Mahavir Vaatsalya Aspatal, L. C. T. Ghat, East of Sadaquat Ashram, Patna-800 001, Bihar,
Phone- +91-612- 2277529 / 2275657, E-mail: mahavirvatsalya@gmail.com
Website http://www.mahavirvaatsalya.com/
---
---
if you have any information regarding Job, Study Material or any other information related to career. you can Post your article on our website. Click here to
Register
& Share your contents.
For Advertisment or any query email us at
educratsweb@gmail.com
Submit Guest Post
Guest Post
Submit Job Information
Submit Contents
Category
Contents
Jobs
Link
Photo
Video
Business Directory
Our presence in social media
Twitter
Facebook
Telegram
Whatsapp Grroup
vk.com
Flipboard
Contact us
Contact us
Explore more
Web Archive
Free Online Practice Set
Our Blog
Search Pincode
Search Bank IFSC Code
Best Deal
Greetings
Recent Jobs
RSS
Advertise with us
Question
follow.it
Sitemap
Tag
Tag
Search
We would love to hear your thoughts, concerns or problems with anything so we can improve our website educratsweb.com !
Email us at
educratsweb@gmail.com
and submit your valuable feedback.
Save this page as PDF