Tag :
#
IAF
,
The heavy lift transport fleet of IAF has been airlifting empty cryogenic oxygen tankers to their filling stations in India since 22 April 2021, so that they may be filled and transported to their destinations by road or rail. The same activity is now being undertaken at international destinations.
An IL-76 aircraft of the IAF has airlifted 03 empty cryogenic containers from Jamnagar to Al Maktoum, Dubai. Indian Oil Corporation Ltd has coordinated for these containers which will be filled up with Liquid Medical Oxygen at Dubai and brought back by ship to India. The airlift will reduce the timelines of transportation of empty containers.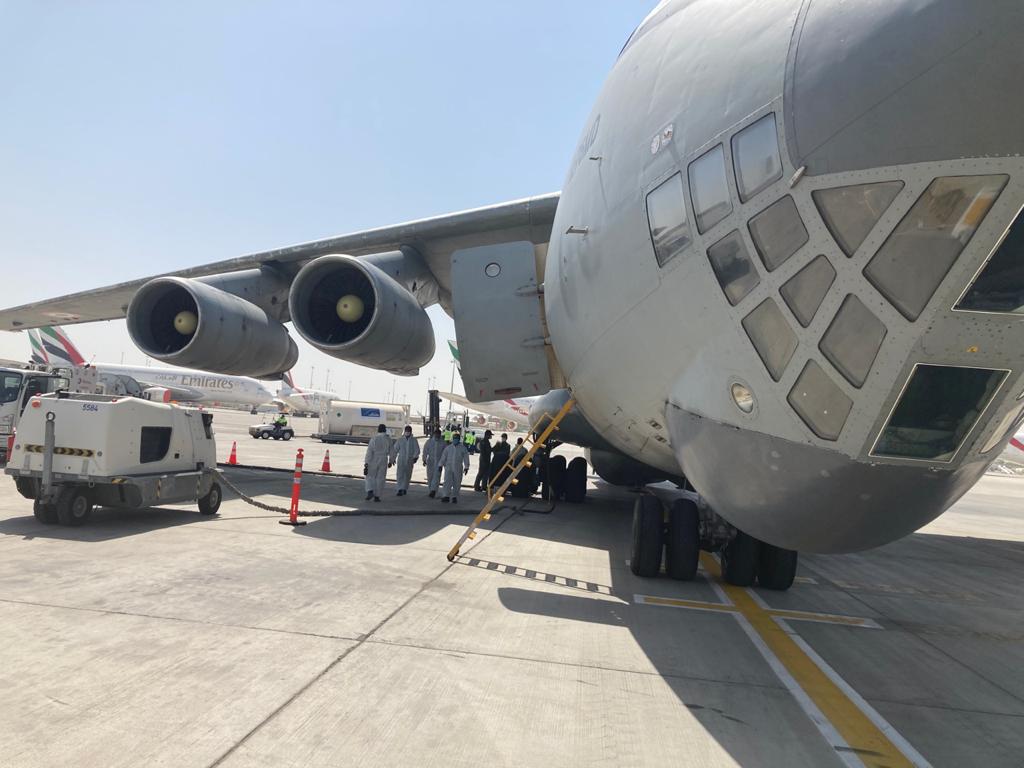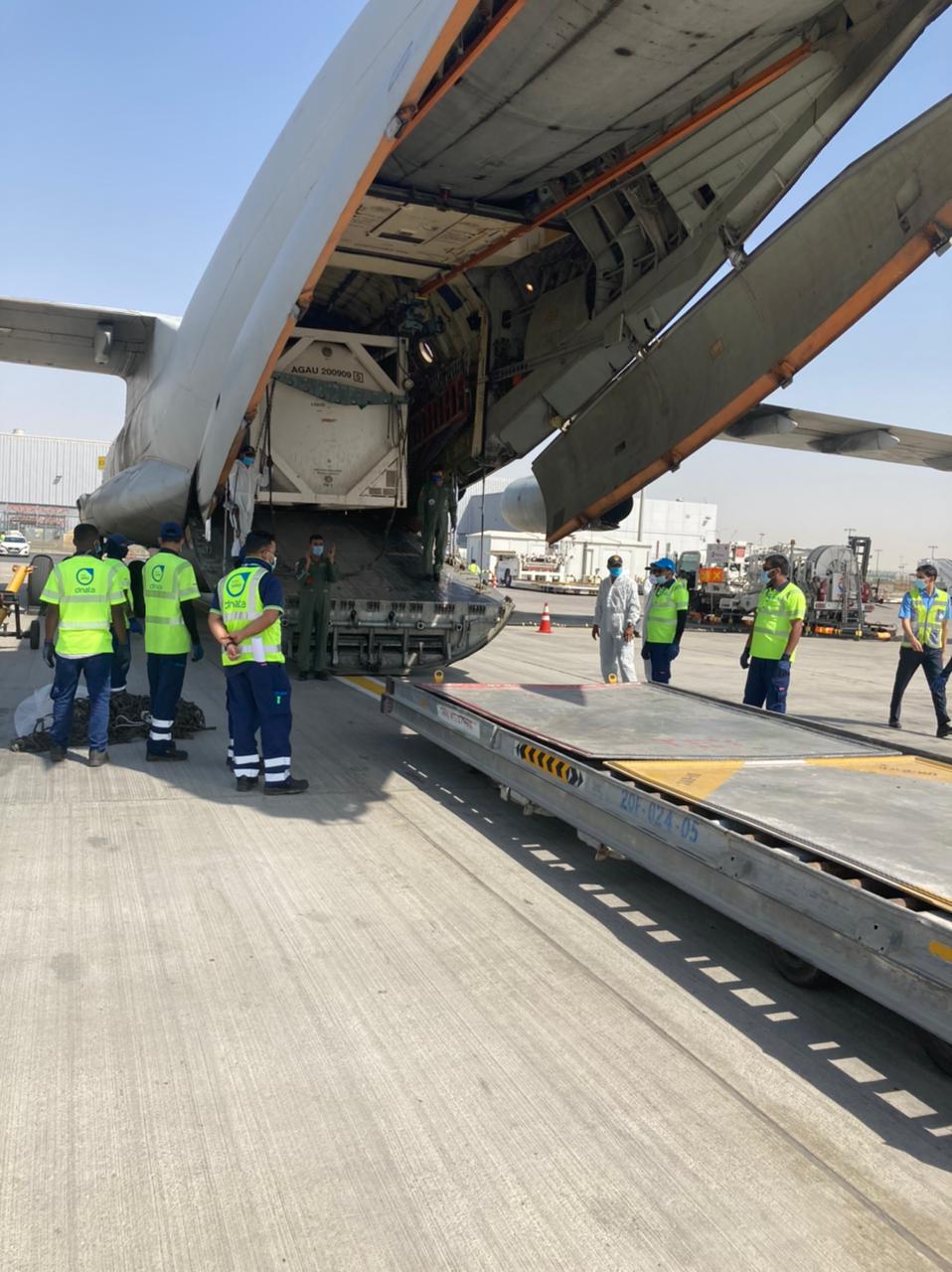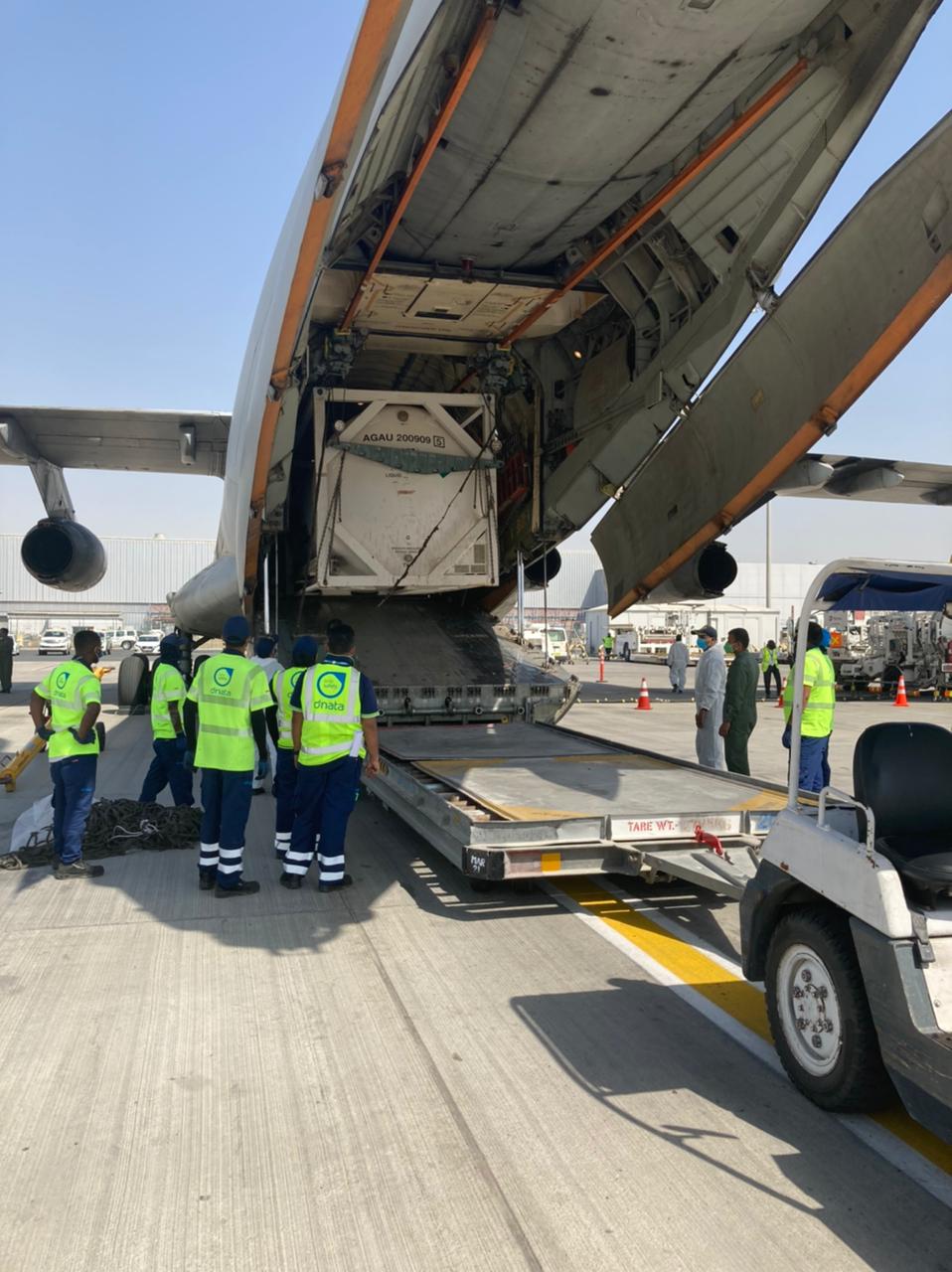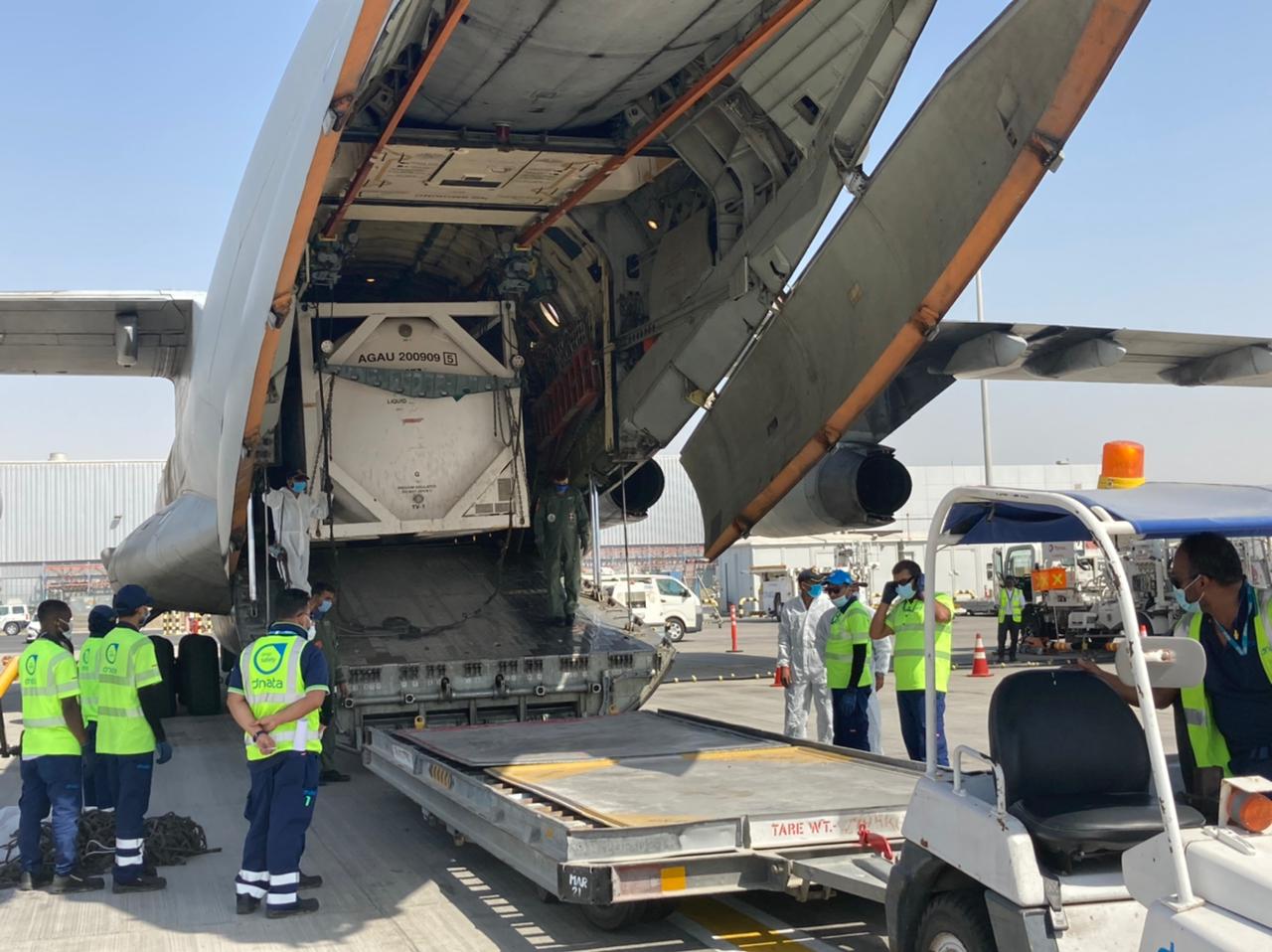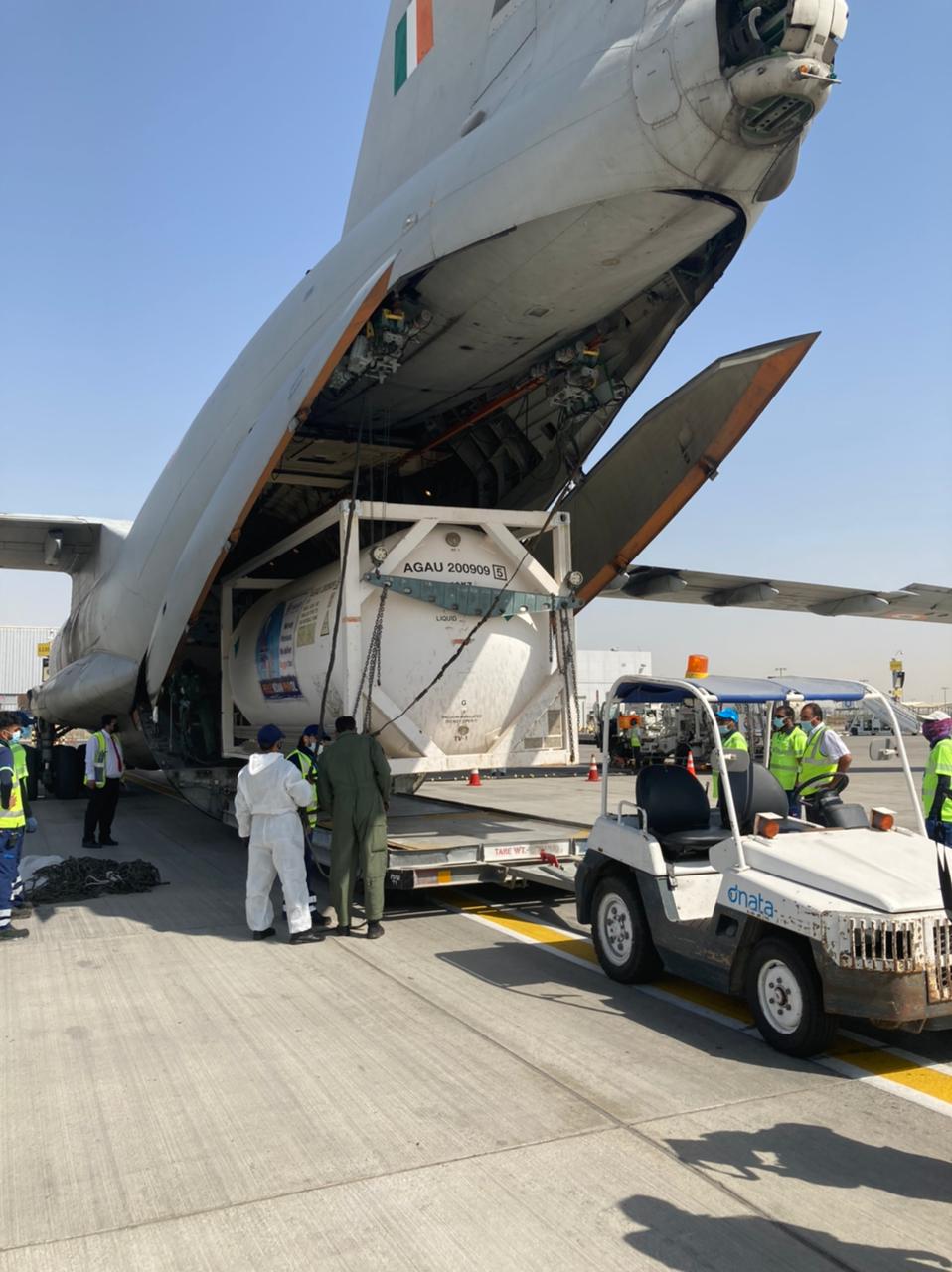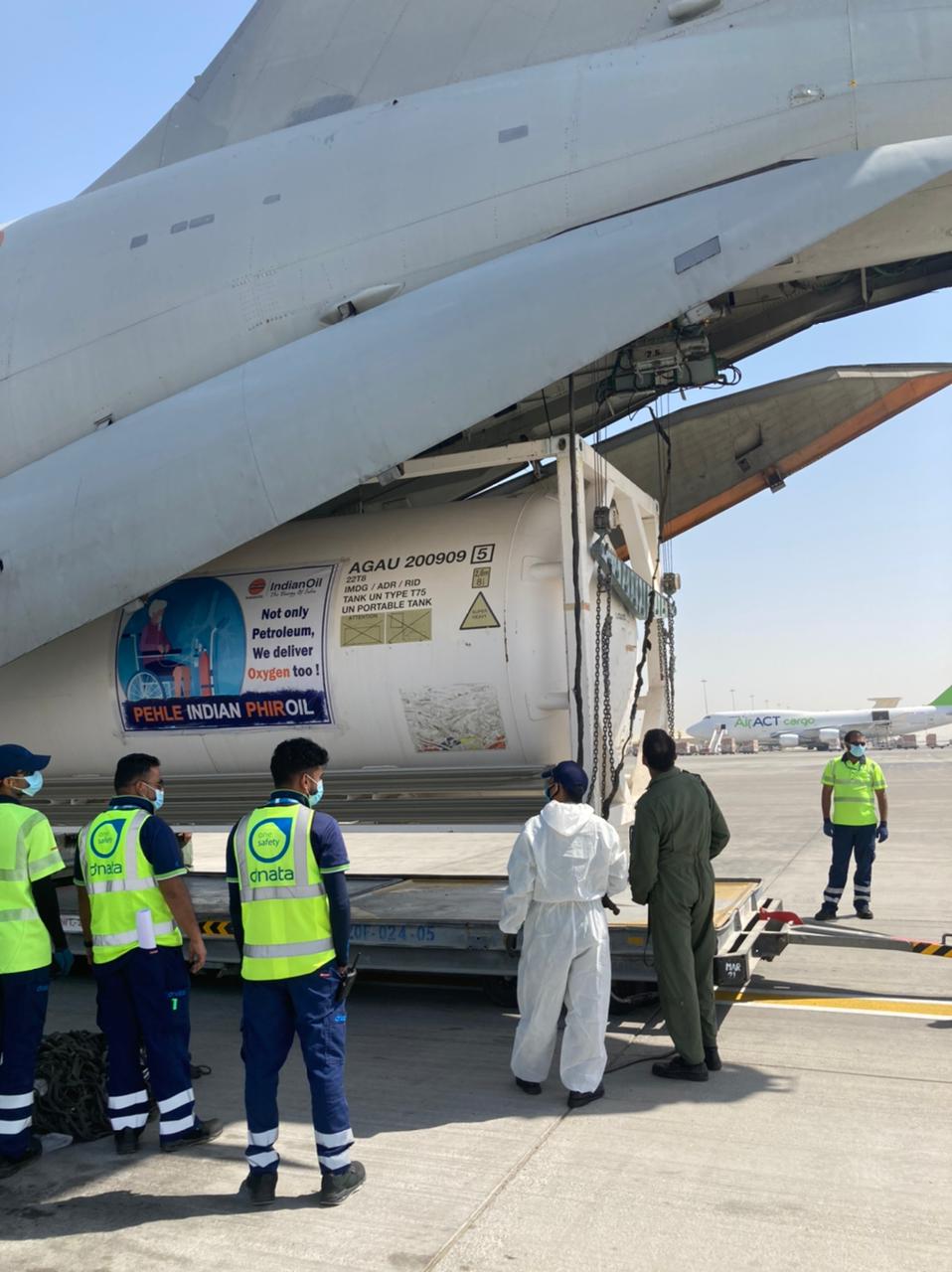 Sources https://www.pib.gov.in/PressReleasePage.aspx?PRID=1719272
---
---
if you have any information regarding Job, Study Material or any other information related to career. you can Post your article on our website. Click here to
Register
& Share your contents.
For Advertisment or any query email us at
educratsweb@gmail.com
RELATED POST
1. 850 oxygen plants being set up in various districts of country: Secretary DRDO
Monday June 14 2021 : A total of 850 oxygen plants are being set up in various districts of the country from PM Cares Fund for catering to the needs of the country to fight the pandemic COVID-19, Dr C Satish Reddy, Secretary, Defence Research & Development Organisation (DRDO), highlighted at the Department of Science & Technology (DST) Azadi Ka Amrit Mahotsav Discourse Series. He added that DRDO was prepared to provide all kinds of support when the need arises, and more flying hospitals would be ready, as was provided by DRDO in the second wave of COVID-19, to help the people. "We established temporary hospitals specific to COVID 19 in many cities. These are modular hospitals, we call it flying hospitals, and these have been made in a way that the virus does not go out of hospitals. If there is any third wave, all the hospitals will be taking the load, and the government is discussing these aspects with various stakeholders," said Dr Reddy. He also underlined how DRDO is primarily carrying out research in advanced technology in defence and also concentrating on developing high-quality technology that will be beneficial for the people, at lower cost to match international level Dr. Reddy was speaking at the online discourse series New India @ 75, organised by National Council for Science & Technology Communication and Vigyan Prasar. Prof Ashutosh Sharma, Secretary, DST talked about various steps taken by the Central Government and DST to fight the pandemic and how to keep vaccines safe and to ensure it reaches every nook and corner of the country. He also spoke about ways in which Artificial Intelligence (AI) could play a greater role in fighting the pandemic. "Technologies have been developed for storing and transporting vaccines to every nook and corner of the country. New ways of storing vaccines have been developed as per the Indian conditions. Convergence of technologies is the future, and AI can play a great role in diagnostics, telemedicine and will have tremendous importance in remote monitoring, diagnostics and decision-making in fighting pandemic," Prof Sharma said. Speaking about the 50 years of DST, he pointed out that it has been a long journey, and foundational technology has been seeded, establishing DST as a nursery to help, nurture and grow young talents for the progress and development of the country. Sources https://www.pib.gov.in/PressReleasePage.aspx?PRID=1726975
2. Delhi receives its FIRST Oxygen Express
Tuesday April 27 2021 : Indian Railways is continuing its journey of delivering liquid medical oxygen to various parts of the country. So far, 450 metric tonnes have been delivered to Maharashtra, Uttar Pradesh & Delhi in 6 Oxygen Express through 26 tankers covering more than 10,000 km (in empty and loaded conditions). Currently, another oxygen express is on the run from Bokaro to Bhopal via Jabalpur. This train is carrying 64 metric tonnes of liquid medical oxygen in six tankers, which will replenish oxygen demand in Madhya Pradesh through the city of Bhopal and Jabalpur. Another empty rake from Lucknow has reached Bokaro, which will bring another set of oxygen tankers replenishing oxygen supply to Uttar Pradesh. Delhi has received its first Oxygen Express carrying more than 70 metric tonnes of liquid medical oxygen today early morning. So far, As per provisional estimates Indian Railways has delivered 202 metric tonnes to Uttar Pradesh, 174 metric tonnes to Maharashtra and 70 metric tonnes to Delhi. Madhya Pradesh will receive 64 metric tonnes in next 24 hrs. Sources https://www.pib.gov.in/PressReleasePage.aspx?PRID=1714366
3. Powergrid installs Oxygen Plant at District hospital, Jaisalmer
Friday June 4 2021 : Power Grid Corporation of India Limited (POWERGRID), a Maharatna CPSU under Ministry of Power, Government of India installed an Oxygen Plant at District Hospital, Jaisalmer, which was inaugurated by Chief Minister of Rajasthan Shri Ashok Gehlot. The plant has been built at an estimated cost of ₹1.11 crore under CSR initiative. The virtual ceremony was presided by Dr. Raghu Sharma, Hon'ble Minister of Medical and Health, Medical Education, Ayurveda and DIPR, Government of Rajasthan in presence of state ministers, functionaries and officials from POWERGRID. The installed oxygen plant has an 850 Litre/Min capacity, which will augment public health infrastructure of the state. The District Hospital had been functioning with about 30 oxygen beds, and with POWERGRID's effort of installation of Oxygen plant, now all 200 beds are equipped with oxygen support, which shall benefit around 10 lakh people living in and around the Jaisalmer district. Sources https://www.pib.gov.in/PressReleasePage.aspx?PRID=1724432
4. Jammu & Kashmir MSMEs enlighten themselves with CSIR-CMERI Advanced Oxygen Technologies
Friday June 4 2021 : A Webinar on 'Oxygen Enrichment Unit- Seeking MSME partners for solving the Oxygen Crisis' was organised by MSME-DI, Jammu in association with CSIR-CMERI on 4thJune2021 for the MSMEs of the region. The Webinar was attended by Mr. Shahid Kamli, President, Federation Chamber of Industries Kashmir (FCIK), Shri Sanjeet Verma, I/C, SIDBI, J&K, Shri Mahinder Kumar Sharma, Assistant Director, Directorate of Industries and Commerce, J&K and numerous representatives of MSMEs & Business Enterprises. Prof. Harish Hirani, Director, CSIR-CMERI, shared that CSIR-CMERI already has a diverse portfolio of Innovation, which can help address the various societal, economic and environmental issues being faced by the U/Ts of Jammu and Kashmir. The Municipal Solid Waste Management Technology, Aqua Rejuvenation Sewage Treatment Plants, Solar Technologies, E-Tractors, E-Tillers, Compact Tractors and Bio-Mass Processing are perfect to tackle the harsh terrain and marginal farm fields of the region. Prof. Hirani stated that Oxygen Therapy will absolutely relevant even in the days to come, since it is used as a Non-Invasive Therapy for faster Wound Healing, Cell Repair and self-healing of organs. Jammu & Kashmir which has tremendous tourist footfall in normal times can provide oxygen rejuvenation hubs for the tourists, especially to tackle high altitude related issues. Intensive studies and latest medical reports suggest that a normal person requires oxygen in the range of 5-8 LPM. However, for Lungs impairment issue the requirement is doubled for faster Lungs repair in cases such as Pulmonary Fibrosis. While delivering Oxygen it is equally important to ensure that there is no Oxygen Leakage through wastage or leakage of Viral Load, as is evident from Medical Reports indicating such transmission while using Nasal Cannula/ Rebreather/Oxygen Masks. CSIR-CMERI is working upon the development of Oxygen delivery using NIV Masks/Hoods which would have dedicated inlet and exhale channels. The exhaling channel would be equipped with an efficient Viral/Bacterial Filter for trapping any transmission. This would be extremely helpful in enclosed spaces such as Isolation Wards. The CSIR-CMERI Oxygen Enrichment Technology is a decentralised and in-situ technology for Oxygen Generation. The technology performance with market available technologies has also been tested in an altitude testing setup for analysis and it has been observed that it can easily out-compete other market available products even at an altitude of 14,000 feet. Prof. Hirani also showcased simulated environments for two Lungs Impairment Scenarios i.e. Scenario-I for patients without breathing problems and Scenario-II for patients with breathing problems. This technology can also easily be converted to Oxygen Concentrators to cater to the demands of the Government Tenders by the MSMEs. Advanced Oxygen Enrichment Technology is also being developed having Independent Controls for Oxygen Enrichment (FiO2) and Flow Rate. It will b
5. OPERATION SAMUDRA SETU II - INS TARKASH BRINGS MEDICAL OXYGEN CONSIGNMENT FROM QATAR
Wednesday May 12 2021 : As part of ongoing COVID relief Operation 'Samudra Setu II' launched by Indian Navy, INS Tarkash, with two Liquid Medical Oxygen (LMO) filled (20 MT each) cryogenic containers and 230 Oxygen cylinders embarked, arrived at Mumbai on 12 May 21. The Oxygen containers were facilitated by the French Mission as part of "Oxygen Solidarity Bridge" and Oxygen cylinders were gifted by Indian diaspora in Qatar. The consignment was handed over to Civil Administration, Maharashtra.
6. Government invites R&D proposals on Critical Components and Innovations in Oxygen Concentrators
Saturday May 22 2021 : A new initiative by the government will soon catalyze R&D on critical components and innovations concerning Make-in-India Oxygen Concentrators to meet the emerging healthcare requirements to combat the COVID 19 epidemic. Despite being on the list of essential medicines prescribed by the World Health Organization, oxygen remains a precious commodity, especially under conditions of medical distress. This initiative involves invitation for proposals from scientists from educational and research institutes/ laboratories, universities, and medical institutions, start-ups, and industries by Science and Engineering Research Board (SERB), a statutory body of Department of Science and Technology (DST), to investigate and innovate in the development of (individual/portable) oxygen concentrators. They will be in domains of alternate materials and mechanisms for oxygen separation; design, development, and manufacturing of critical components such as valves and oil-less compressors, design improvements for greater performance, AI-optimized oxygen flow devices, and oxygen-level IoT sensors, and so on. The scientists from industries should align with investigators from academic / research institutions as co-investigators. Funding for industry partner(s), with respect to R&D leading to commercialization, will be forwarded to Technology Development Board (TDB), DST, for their consideration. The duration of the project is one year. This will help meet the need of indigenous concentrators working on newer approach of providing supplementary oxygen in hospital wards and ICUs and as an inexpensive therapeutic oxygen source for patients under home isolation. Proposals should be submitted in the prescribed format through SERB online portal www.serbonline.in on or before 15th June 2021.
7. 3131Metric Tonnes of Liquid Medical oxygen supplied by Steel plants; Steel plants willing to dip into their safety stock to make available more LMO; Nitrogen and argon tankers being converted to carry oxygen
Monday April 26 2021 : Steel Plants in Public & Private Sector supplied 3131.84 Metric Tonnes of Liquid Medical oxygen (LMO) to various states on the 25th April 2021,ascompared to 2894 tonnes dispatched on the previous day.A week earlier, on an average 1500/1700 Metric tonnes /Day was being dispatched. The production on 25th April was 3468.6 MT. Steel plants have been able to enhance the supply of LMOby taking various initiatives, which include reduction in the production of Nitrogen and Argon and only producing LMO in most plants. The steel plants are normally required to keep 3.5 days of safety stock of LMO in their storage tanks which is vaporized and used in case some problem develops in the oxygen plants. Through continuous engagement with the steel producers, the safety stock has been reduced to 0.5 days instead of the earlier 3.5 days because of which LMO supply had significantly increased. To facilitate the faster movement of LMO, It has been directed by DPIIT that certain number of nitrogen and argon tankers be converted to carry oxygen. As on date, there are 765 nitrogen tankers with a capacity of 8345 MT and 434 argon tankers with a capacity of 7642 MT. Permission for converting portion of them for carrying oxygen has been issued by Petroleum and Explosives Safety Organization(PESO). This will remove a major bottleneck in transportation of LMO to states. As on date, 1172 tankers are available for LMO, with the capacity 15900 MT. Bhilai Steel Plant is taking a very short shut down to enhance their liquid oxygen production by 15MT. This shut down will not come in the way of dispatches.Similar directions have been given to other Central Public Sector Enterprises-owned steel plants to explore the possibility of enhancing their capacity. Sources https://www.pib.gov.in/PressReleasePage.aspx?PRID=1714148
8. Railways set to have 86 Oxygen plants for its hospitals
Tuesday May 18 2021 : Indian Railways is leaving no stone unturned in the fight against Covid 19. On one hand, Railways is moving Oxygen Expresses swiftly with loaded oxygen to different parts, at the same, it is continuing with the movement of passenger and freight traffic. At the same time, Railways has geared up its in-house medical facilities. Massive Capacity Enhancement is planned in 86 Railway Hospitals across India. 4 Oxygen Plants are functional, 52 are sanctioned and 30 under various stages of processing. All Railway Covid Hospitals to be equipped with Oxygen Plants. General Managers have been delegated further powers, upto Rs 2 crores in each case for sanctioning Oxygen Generation plants under M&P vide Rly Bd letter no 2020/F(X)II/ PW/3/Pt dated 4.5.21. A series of measures have been initiated. The number of beds for Covid treatment have been increased from 2539 to 6972. The ICU Beds in Covid hospitals have been increased from 273 to 573. Invasive ventilators have been added and their number has been increased from 62 to 296. Constant efforts are being made to add critical medical equipment like BIPAP machines, Oxygen concentrators, oxygen cylinders etc in Railway hospitals. Railways have also issued instructions that Covid affected employees may be admitted to empanelled hospitals on referral basis as per need. This massive capacity enhancement in Railway Hospitals would usher in better infrastructure to handle medical emergencies.
9. West Bengal and Haryana MSMEs pitch in with Oxygen Enrichment Technology
Saturday May 22 2021 : In its efforts to empower and strengthen the MSMEs further, CSIR-CMERI transferred its indigenously developed technology of Oxygen Enrichment Unit (OEU) to another three entrepreneurs namely 1) M/s Conquerent Control Systems Private Limited, IMT Manesar, Gurgaon; 2) M/s A B Elasto Products Private Limited, Krishnapur, Kolkata; and 3) M/s Automation Engineers, P. S. Hare Street, Kolkata virtually on 21.05.2021. During the occasion, Prof. (Dr.) Harish Hirani said that usage of Oxygen Enrichment technology varies greatly from ICU in hospital, Isolation Wards to extended care at home. The supplemental Oxygenis required in ailing patients for effective metabolism. He further added "This is often misunderstood that SPO2 (Oxygen saturation of blood) above 90 can only be achieved in the ailing patients with Oxygen % (FiO2) more than 90. Many times a moderate amount of supplemental oxygen FiO2 in the range of 0.3 to 0.4 with appropriate flow rate (under medical supervision) may provide SPO2 level > 90. He also stressed upon the need for use of proper masks by the patients to avoid the infections amongst their family members. Prof. Hirani further said that the motto of the Institute is to share the technology to the entrepreneurs who have the manufacturing capabilities and capacity to source the required raw materials of the product so that the mass production of the OEU may be started at the earliest for its reach to the common people. This will also boost the skill development and employability of a large number of beneficiaries. He also assured the licensees for handholding and guidance in sourcing of the raw materials,the technical detailing or any other related support from the Institute for manufacturing the OEUs. Mr. Dev P. Goel, MD and Mr. Bharat Goel, CEO of M/s Conquerent Control Systems Private Limited, IMT Manesar, Gurgaon a company under Madhu Group said that their company has all the manufacturing capability related to fabrication, finance and resources to start the production of the OEU immediately. They further stated that their primary motto at the moment is service to the humanity considering the prospective 3rd wave and would try to keep the price of the product to the minimum. They have also planned for providing the product to the hospitals, clinics, schools & colleges, factories for workers and the societies of the real estates for maximizing the benefits of the technology. They were also concerned over the influx of spurious products from abroad lacking the trust of the people, but were very hopeful that with CSIR-CMERI's technology and their brand value an indigenous and candid product would be available to the masses. Mr. Sushim Mukul Bhol, Director, M/s A B Elasto Products Private Limited, Krishnapur, Kolkata shared the profile of his company which is basically involved in the rubber-based auto engineering products like Air Brakes, Hose etc. has excellent infrastructural facility and distribution system to start manufacturing
10. NTPC Unchahar Handovers Oxygen Plant to District Administration of Raibareli
Monday May 31 2021 : NTPC , a Maharatna CPSU under Ministry of Power in its continued efforts to help in fight against COVID has set up an oxygen plant by NTPC Unchahar. The plant was handed over to the district administration of Raibareli, UP. The necessary equipment and resources were made available by NTPC to the executing body for smooth functioning of this plant. With the establishment of this oxygen plant, oxygen facility will be made available regularly to the needy people with immediate effect. Earlier, 10 Oxygen cylinders were supplied by NTPC to Unchahar Community Health Center. In crisis situation, this initiative of NTPC Unchahar has emerged as a ray of hope that rural people can also get better health facilities. Sources https://www.pib.gov.in/PressReleasePage.aspx?PRID=1723114