Swachh Survekshan Grameen, 2021 will be launched under the Swachh Bharat Mission Phase- 2 tomorrow i.e. on 9th September, 2021. As part of the 'Azadi Ka Amrit Mahotsav', Swachh Survekshan Grameen aims to support acceleration of ODF plus interventions and results in the country. An expert agency has been hired to conduct the Survekshan 2021. As part of the Survekshan, Villages, Districts and States would be ranked using key parameters.
As part of Swachh Survekshan Grameen, 17,475 villages in 698 Districts across the country will be covered. 87,250 public places namely schools, anganwadis, public health centres, haat/bazaars/religious places in these villages will be visited for survey. Around 1,74,750 Households will be interviewed for their feedback on SBM related issues. Also, citizens will be mobilised to provide feedback on sanitation related issues online using an application developed for the purpose.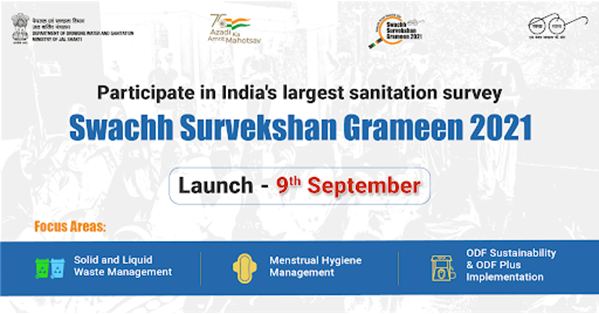 The Department of Drinking Water and Sanitation (DDWS) had commissioned "Swachh SurvekshanGramin (SSG)- earlier in 2018 and 2019. It is pertinent to mention that SSG is not just a ranking exercise but has been a vehicle for creating a Janandolan (people's movement). A detailed protocol has been developed to guide the ranking of Districts based on their performance on key quality and quantitative parameters.
The weights to different elements of the SSG 2021 are as below:
Direct Observation of sanitation at public places -30%
Citizen's Feedback, including feedback from common citizens, key influencers at the village level and from citizensonline using a mobile App -35%
Service Level Progress on sanitation related parameters -35%
---
---
if you have any information regarding Job, Study Material or any other information related to career. you can Post your article on our website. Click here to
Register
& Share your contents.
For Advertisment or any query email us at
educratsweb@gmail.com
Category
Contents
Jobs
Link
Photo
Video
Business Directory
Our presence in social media
Twitter
Facebook
Telegram
Whatsapp Grroup
vk.com
Flipboard
Contact us
Contact us
Explore more
Web Archive
Free Online Practice Set
Our Blog
Search Pincode
Search Bank IFSC Code
Best Deal
Greetings
Recent Jobs
RSS
Advertise with us
Question
follow.it
Sitemap
Tag
Tag
Search
We would love to hear your thoughts, concerns or problems with anything so we can improve our website educratsweb.com !
Email us at
educratsweb@gmail.com
and submit your valuable feedback.
Save this page as PDF